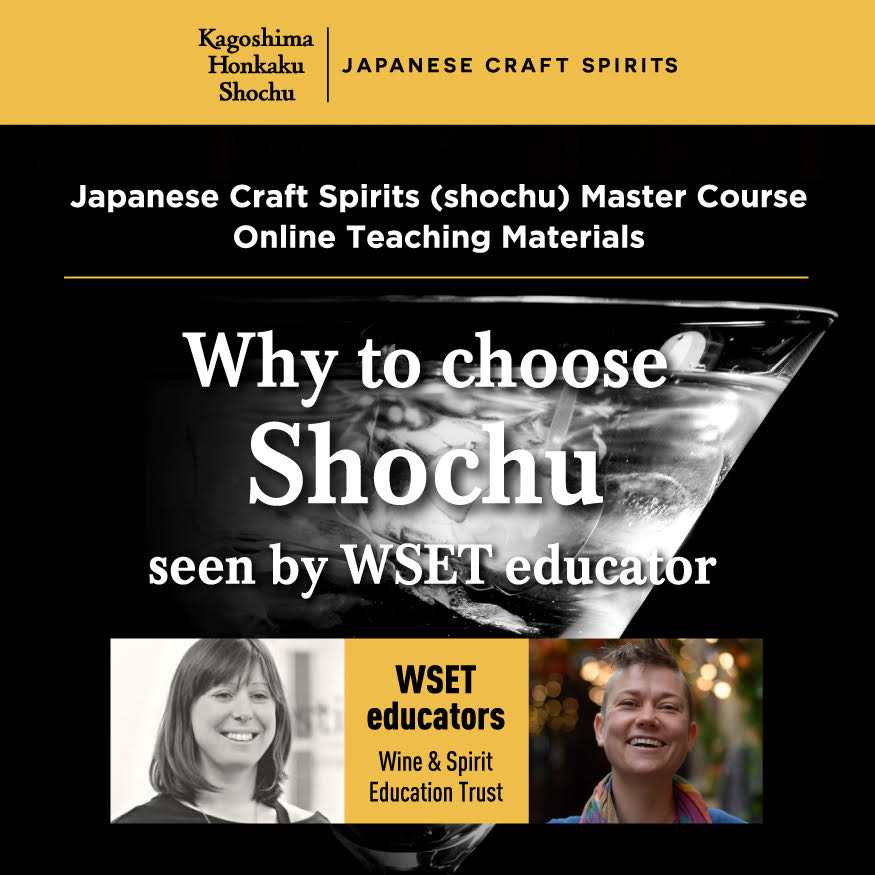 Japanese Craft Spirits Master Course
Why to choose Kagoshima Honkaku shochu seen by WSET educator
Sale price Price ¥66,000 Regular price Unit price / per
<Online teaching materials>

Product 

Japanese Craft Spirits (shochu) Master Course Online Teaching Materials
Contents of teaching materials
①Videos only accessible to purchasers(5 themes, multiple languages, limited access)
②Textbooks (5 themes, multiple languages, packed together with the shochu)

③14 types of Kagoshima Honkaku shochu (sent directly through retail air shipping)

・ICHINOJO ASAHI brown sugar shochu (720ml) x 1
・Tokusen kurokouji potate shochu (720ml) x 1
・KOMPURA rice shochu (720ml) x 1
・SHINKI NO MEZAME (The Awakening of Spirit) red wine cask brown sugar shochu (750ml) x 1
・SATSUMAGO potate shochu (720ml) x 1
・Taikaisousou potate shochu (720ml) x 1
・Kanpo Ajigasane long-aged undiluted potato shochu (720ml) x 1
・HIIZURU SHIMA NO SEE brown sugar shochu (360ml) x 1
・Samurai-no-mon Satsuma-no-kootei potato shochu (720ml) x 1
・Chiran tea chu potate shochu (720ml) x 1
・FAU brown sugar shochu (300ml) x 1
・Kannpati-no potate shochu (720ml) x 1
・Hama-Chidori-no-Uta undiluted brown sugar shochu (720ml) x 1
・AMATSUKAZE wheat shochu (720ml) x 1


First theme
<Contents>
・WHAT IS HONKAKU SHOCHU?
・WHERE IS IT FROM?
・HISTORY of SHOCHU
・WHERE IS HONKAKU SHOCHU MADE?
・TRADITIONAL DISTILLATION
<Teaching materials>
①Video teaching materials Playback time 39:13


②Textbook teaching materials 20 pages

③Kagoshima Honkaku shochu that is introduced

・
ICHINOJO ASAHI brown sugar shochu (720ml)
・
Tokusen kurokouji potate shochu (720ml)
・
KOMPURA rice shochu (720ml)

Second theme:PRODUCTION
<Contents>
・PREPARING KOJI
・RAW MATERIALS
・DISTILLATION METHOD
・MATURATION METHOD
<Teaching materials>
①Video teaching materials Playback time 36:42

②Textbook teaching materials 12 pages

③Kagoshima Honkaku shochu that is introduced

・
SHINKI NO MEZAME (The Awakening of Spirit) red wine cask brown sugar shochu (750ml)
・
SATSUMAGO potate shochu (720ml)
・
Taikaisousou potate shochu (720ml)

Third theme:TASTING HONKAKU SHOCHU
<Contents>
・APPEARANCE
・NOSE
・PALATE
<Teaching materials>
①Video teaching materials Playback time 38:16


②Textbook teaching materials 4pages

③Kagoshima Honkaku shochu that is introduced

・
Kanpo Ajigasane long-aged undiluted potato shochu (720ml)
・
HIIZURU SHIMA NO SEE brown sugar shochu (360ml)
・
Samurai-no-mon Satsuma-no-kootei potato shochu (720ml)

Fourth theme:FOOD PAIRING WITH SHOCHU
<Contents>
・COMPARE/CONTRAST
・COMPATIBILITY of CUISINES and SHOCHU
<Teaching materials>
①Video teaching materials Playback time 35:37


②Textbook teaching materials 4pages

③Kagoshima Honkaku shochu that is introduced

・
Chiran tea chu potate shochu (720ml)
・
FAU brown sugar shochu (300ml)
・
Kannpati-no potate shochu (720ml)

Fifth theme:COCKTAILS WITH SHOCHU
<Contents>
・KOKUTO DAIQUIRI
・FINE BARLEY by SHUZO NAGUMO
・BLACK KOJI GIBSON
<Teaching materials>
①Video teaching materials Playback time 23:33


②Textbook teaching materials 7pages

③Kagoshima Honkaku shochu that is introduced

・
Hama-Chidori-no-Uta undiluted brown sugar shochu (720ml)
・
AMATSUKAZE wheat shochu (720ml)
・
Kanpo Ajigasane long-aged undiluted potato shochu (720ml)
・
Tokusen kurokouji potate shochu (720ml)
<Educator>
Hannah Lanfear
Hannah Lanfear is the founder of The Mixing Class, a company dedicated to education within the drinks industry with a focus on fostering diversity and socially responsible hiring practices within the cocktail and spirits industry. Working alongside Equal Measures' founder, Deano Moncrieffe, The Mixing Class is the education partner for The Equal Measures Project that aims to provide a clutch of industry relevant qualifications and mentorship for 120 BAME candidates annually. Clocking in at 22 years of service to the trade her journey took her from a teenager pulling pints and pouring rum in a harbour-side tavern in Cornwall, to making fancy drinks for the cognoscenti in some of the world's elite bars. 

She has managed and trained bar teams (Milk & Honey, Bungalow 8, Boisdale), passing down her skills from her mentors to her mentees; consulted on bar openings (Nimb Copenhagen, GloGlo's); travelled the world as a global brand ambassador experiencing bar culture the globe over while managing the sales, marketing and exports of Jensen's Gin. She has written many an article for industry press (Imbibe, Bar Life, CLASS, Drinks World Asia); is a member of the Tales of the Cocktail Education Committee; is one of the IWSC & WSET Future 50; #65 on the Bar World 100, and Imbibe's Educator of the Year 2019. 
Rose Brookman

Rose started her career in hospitality working in bars across the UK, but found her love for spirits at Amoeba Craft Beer & Cocktail Bar in Bristol.  She became passionate about competition bartending which led to the re-establishment of the Midnight Cocktail Club, a monthly peer judged bartending competition that grew exponentially to be the biggest independent competition in the UK; training and pushing young bartenders to learn and excel at their craft. 

Rose moved to the other side of the bar where she worked in brand sales across the UK, before becoming a Distillery Tour Manager and finally a Spirit Educator, where her passion for education grew through industry brand training, consumer tours, and teaching the WSET course. 

More recently Rose has fallen in love with Japanese spirits studying to become an "Awamori Jinbner" as part of a scheme by the Japanese Tax Agency to help encourage global recognition of the spirit category, as well as being an IWSC judge for the shochu category. 

She joined Hannah Lanfear at The Mixing Class in October 2020, having a genuine passion for both the people of the industry and education within it; Rose aims to help those on the course to grow into future stars, pushing the category forward as a whole.

<Disclaimer>
The user may view the videos contained in the purchased product at any time through the website designated by our company. However, we do not guarantee that the user will be able to view the videos under any circumstances, and the user agrees in advance that the videos may become unavailable due to termination of the service, force majeure, or other reasons. 

The "Master Course" sold through this service is a set of videos, textbooks, and sake samples. Please note that the videos and texts are not sold separately.

The intellectual property rights for the videos and texts provided by this service belong to our company or a third party who has the rights. Users shall use the videos and texts provided by this service for private use only, and shall not transfer, lend, distribute, sell, license, display, publicly transmit, or commit any other acts that infringe on intellectual property rights beyond the scope of private use.

The setup and maintenance of computers, software and other equipment, communication lines and other communication environments, etc. necessary to receive this service shall be at the expense and responsibility of the user.

We do not accept returns or exchanges of products purchased through this service, except in cases where the product is found to be damaged or defaced, or where the delivered product is not the one ordered. If the product is defective or faulty, please contact us within 7 days of receiving the product. We will replace the product in accordance with these terms and conditions.

Our company does not guarantee that the contents of the videos and texts provided by this service will have the functions, commercial value, accuracy, or usefulness that users expect.

Japanpage:Sake Terms of Use, Privacy Policy, and other terms and conditions set forth by our company regarding the use of the service (hereinafter collectively referred to as the "Terms") shall apply or apply mutatis mutandis to the use of the service. Please use this service upon agreeing to these Terms.